SPACE TO EXPLORE IN THE SLIEVE BLOOM MOUNTAINS
Your ultimate guide to exploring the Slieve Bloom Mountains
Not only does the Slieve Bloom Mountains have a wide range of scenic walking and mountain trails, but it also has a rich history, abundant wildlife and natural habitats to discover.
If you're planning a visit to the Slieve Bloom Mountains soon, here's all you need to know and what you shouldn't miss…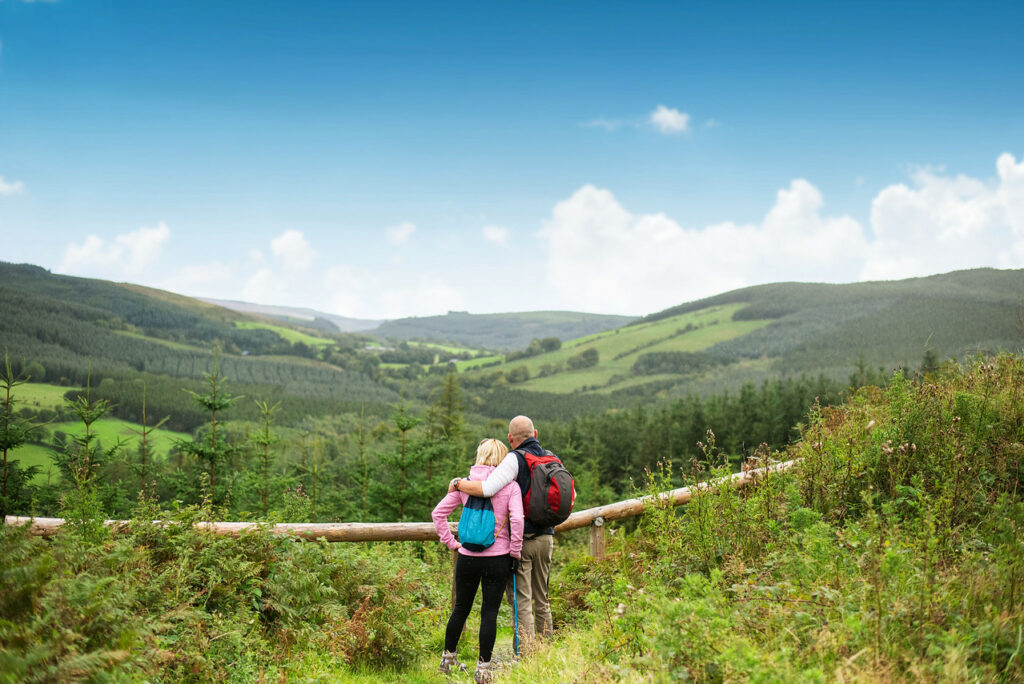 Land of legends
Did you know that the Slieve Blooms are one of the oldest mountain ranges in Europe and were once also the highest, at 3,700m? Due to weathering, they stand at 527m today, with the highest point being Arderin at the south-western end of the range, on the border of Laois-Offaly.
But that's not the only fascinating fact about the mountain range – there's a whole host of stories to discover on a visit to the Slieve Blooms. According to legend, the Slieve Bloom Mountains was home to legendary warrior Fionn MacCool (also known as Fionn MacCumhaill). It is said that Fionn's father died in battle, and Fionn was then in danger because it was thought that someday, he would avenge his father's death.
Fionn's mother left him in the care of his father's sister, Bodhmall, and Liath Luachra in the forests of the Slieve Bloom Mountains, where they trained him in the use of weapons and hunting. Fionn defended Ireland from many a foe and some say that he never died; that to this day, he lives in a cave deep in the mountains. Who knows, you might just wander across this cave!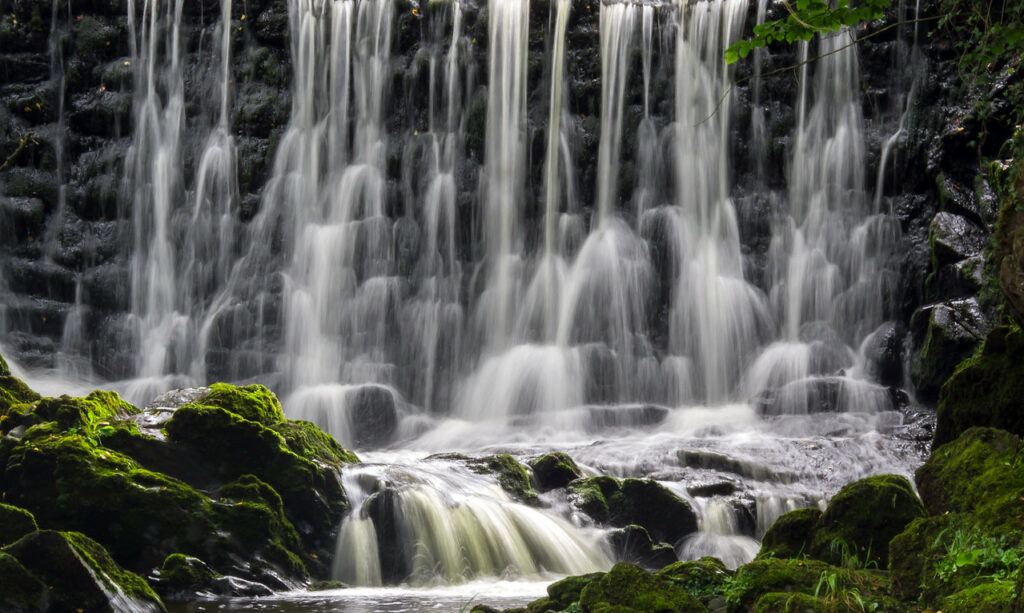 Castle stories
Nestled near the Slieve Bloom Mountains is the historic Kinnitty Castle, which is well worth a visit on your explorations. The castle has a turbulent but interesting history, with the first castle being knocked down in 1209 and rebuilt in 1213 by the Normans. During the time that the Normans were in control, an Augustinian Abbey was established near the castle. Today, you can view the High Cross and Abbey Wall which still remain on-site.
In 1630, William O'Carroll built a new castle close to the old abbey, which was then confiscated by English forces. After this, the Winter family owned the castle for 100 years, after which it was sold to the Bernard family. In 1922, the castle was burned down by Republican forces. It was rebuilt in 1928, before being transformed in 1994 into the luxury castle hotel it is today.
Along with finding out more about the history of Kinnitty Castle (it's also apparently haunted!), you can stay overnight or enjoy a meal in its gothic-style Dungeon Bar. The castle also has a new café on-site called the Antisocial Café, which opened during the pandemic. Enjoy a coffee after taking a stroll along its beautiful riverside trail, the Kinnitty Castle Loop, which is a gentle 4km walk suitable for families. Or, consider organising a trek through the grounds on horseback if you're a bit more adventurous!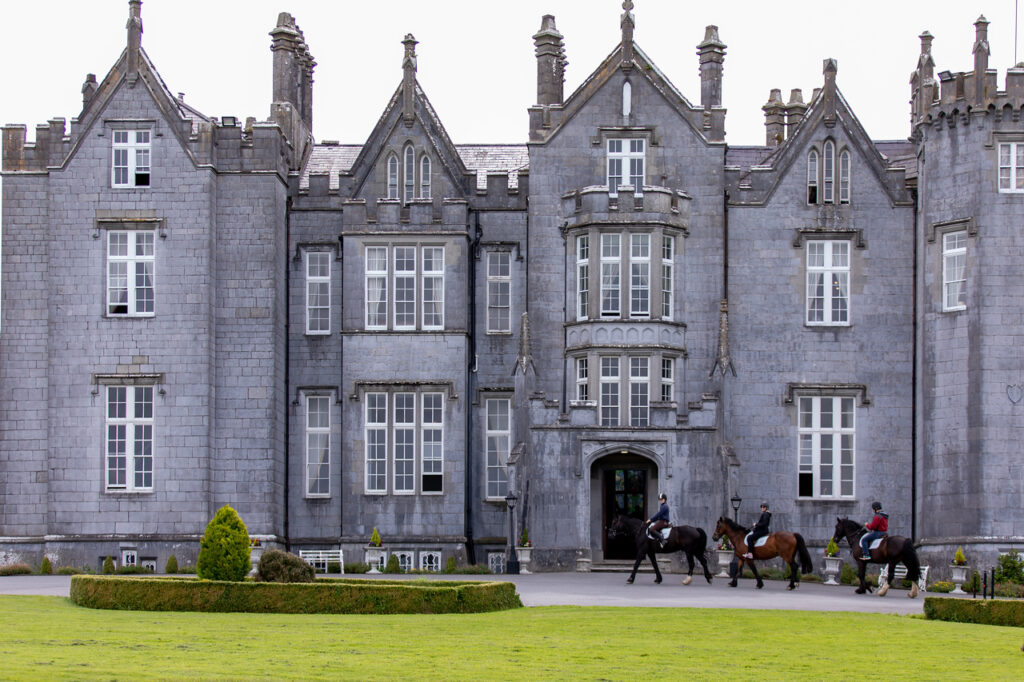 Hills come alive!
Nature and wildlife lovers will no doubt adore the beauty of the Slieve Bloom Mountains. At over 2,300 hectares, the Slieve Bloom Mountains are Ireland's largest State-owned Nature Reserve, managed by the National Parks and Wildlife Service. In fact, the Slieve Bloom Mountains are a designated Special Protection Area (SPA) for the rare birdlife found there: the hen harrier and the red grouse. Both of these bird species nest on the ground within the blanket bog and heath. You may also spot other bird species such as the merlin, raven or falcon and in winter, the snow bunting, while the mountains are home to sika deer too.
The Slieve Blooms are rich in flora and fauna, including bog plants such as sphagnum mosses, bog cottons (Eriophorum species) and deergrass (Trichophorum germanicum). Not to mention, the mixture of trees such as Sitka Spruce and Lodgepole Pine make walking through the mountains' forests and wooded valleys a real sight to behold.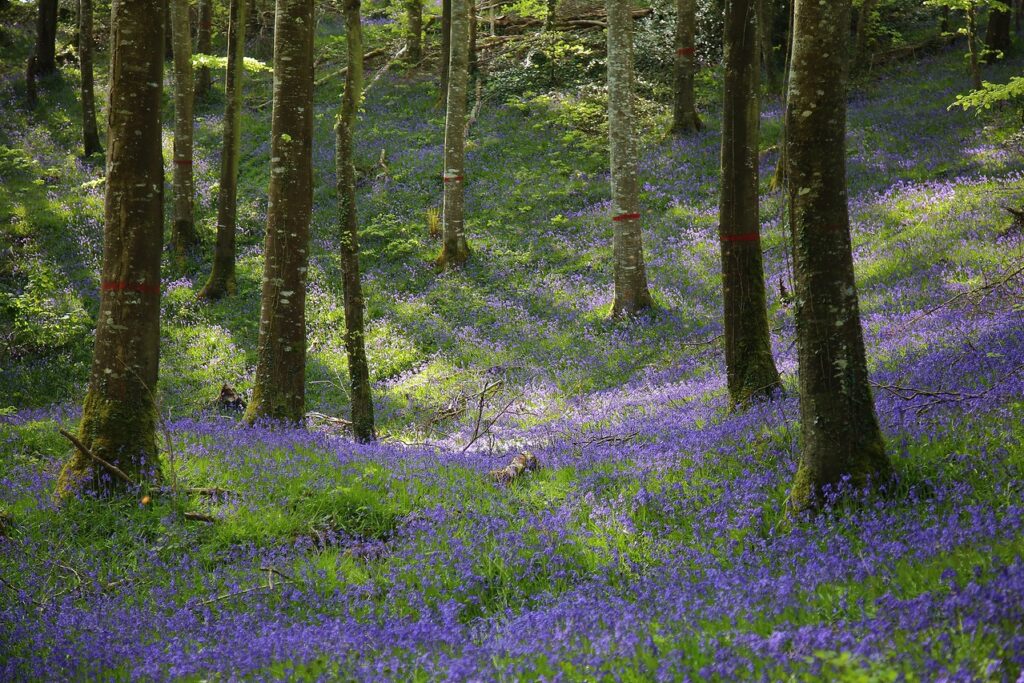 Traverse the trails
The Slieve Bloom Mountains are well-known for their walking and mountain biking trails. There's a wide variety of walking trails to choose from, depending on your ability and preference. These range in distance from 4km to 75km.
There are 17 looped walks that have trailheads at Kinnitty, Cadamstown, Clonaslee, Glenbarrow and Monicknew. If you're looking to explore the mountains' flora, fauna and geology, we'd recommend going on an Eco Walk such as the Silver River Nature Trail (7km, strenuous) or the Knockbarron Wood Eco Walk (5km, moderate). For history lovers, try the Kinnitty Castle Loop or the Giant's Grave Loop (11km, strenuous). This looped walk takes you to the 'Giant's Grave', which is the remains of a Megalithic Tomb and the resting place of ancient warrior Bladhma, after whom the Slieve Bloom mountains are named.
Mountain bikers can explore the 35km of new mountain biking trails, which are waymarked in one direction and designed specifically for mountain bike use. Choose from the 'blue' grade trails, which are moderate with some single-track sections, or 'red', which are difficult with challenging climbs and tricky descents.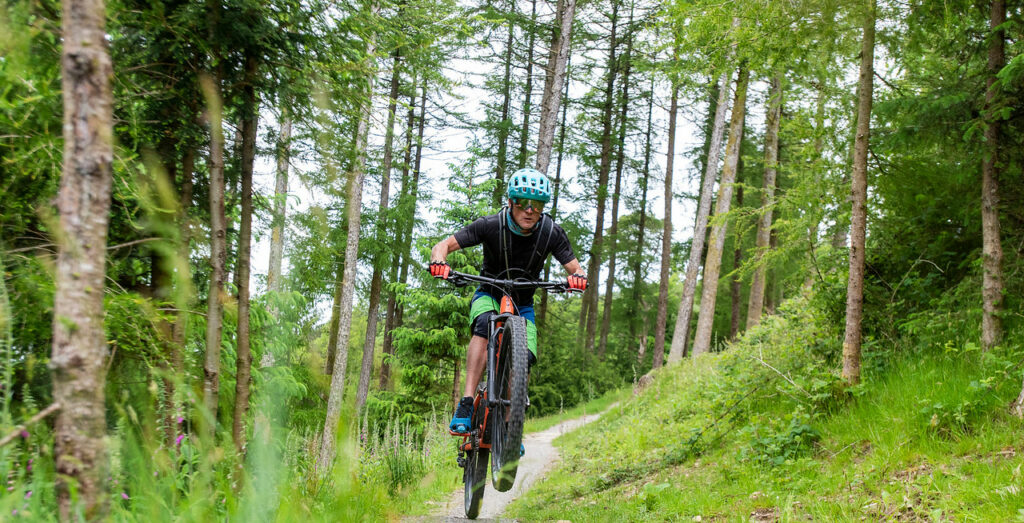 Accommodation and places to eat
You can take a day trip to the Slieve Blooms, but if you decide you'd like more time to explore the area, then there are plenty of great accommodation options available right at the foot of the mountains. You could go glamping and stay in a unique Mongolian yurt at Giltraps Glamping in Kinnitty, or stay at Kinnitty Castle Hotel. For a friendly welcome and homely stay, book into Ardmore Country House.
In Birr town, just a 15-minute drive away, there's the County Arms Hotel and Dooly's Hotel. In Tullamore, approximately a 30-minute drive away, consider staying at the Bridge House Hotel.
And whether you decide to stay on, or simply visit for a day, then you must stop by one of the many cafés for a refreshment. There's Peavoys in Kinnitty. In Birr, there's Emma's Café, Woodfield Café and Garden Centre and The Loft. In Tullamore, grab a coffee in Chocolate Brown, The Foxy Bean, or Conway and Co.
Get planning your Slieve Bloom adventure today!